Hello guys, today I will review a new game for you again. Well, it's not very new because it was released on July 5, 2023, but I can only write this article now. It is a running and slashing action game RUN SLASH RUN MOD APK. Your mission is to constantly run forward, picking up rare gold coins. More importantly, you must destroy the monsters going in the opposite direction. They are very numerous in number and their mission is to attack and hinder your progress. You will practice many different attack techniques. Upgrade your weapons while you're running. Try to use them to the maximum to be able to finish this adventure.
Download RUN SLASH RUN Mod – Run, run and slash all the monsters on the endless road
The gameplay is not too new because I think the idea of ​​the game is very similar to many famous games. The act of running endlessly forward on an infinite path is as striking as Temple Run. Or much more similar is Jetpack Joyride. The coin icon that you need to pick up is dressed up, just looking at it makes me think of Jetpack Joyride. In the game RUN SLASH RUN, there is a difference in the action element. In your hand you will have a powerful sword, so you can slash the corpses of evil monsters. This is the only difference, but also the most attractive thing about the game. Try to cross all terrains and conquer all challenges. To become the strongest hero.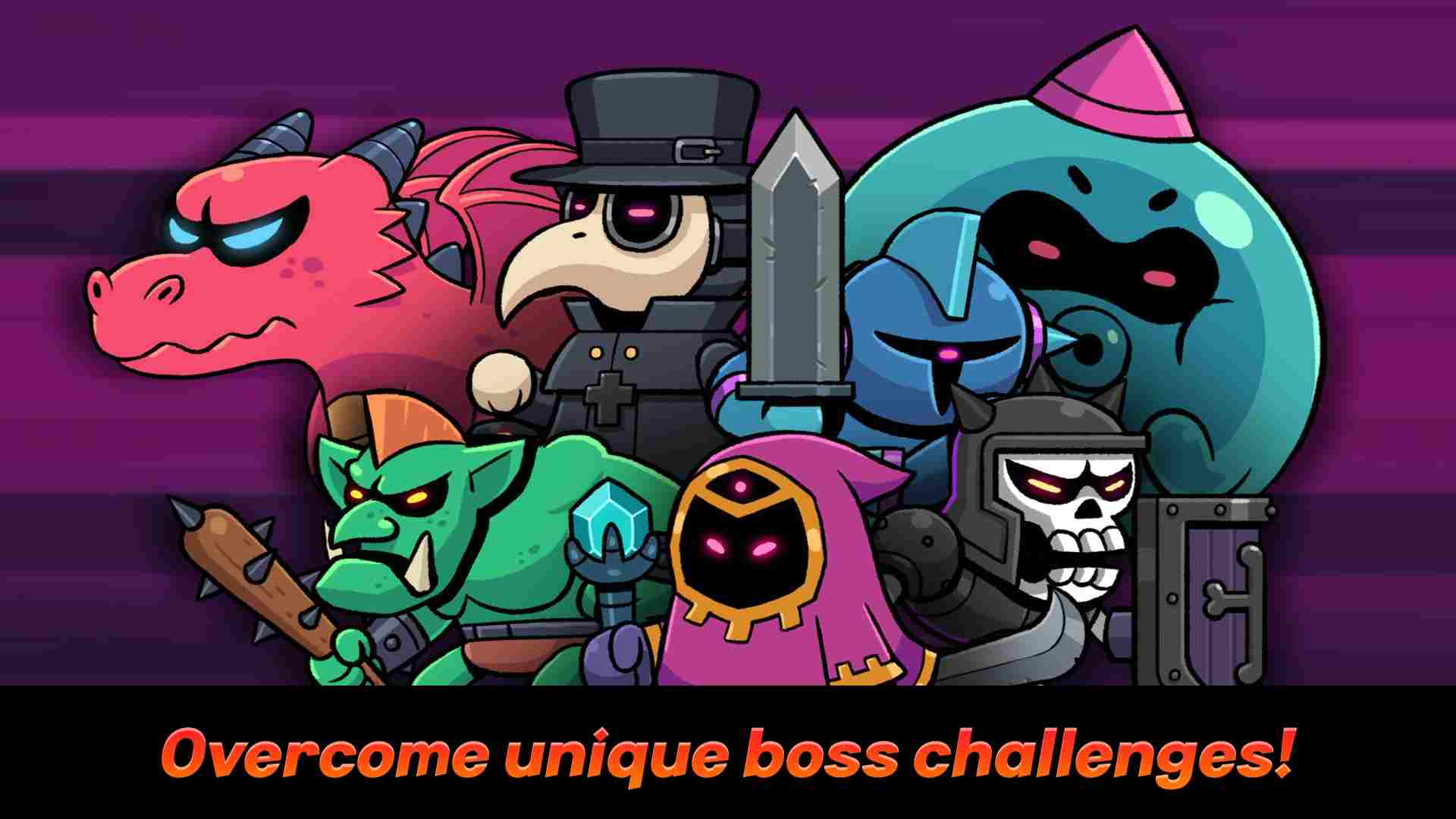 Diverse maps with many themes
Coming to RUN SLASH RUN Mod, you will explore many different lands. During your journey, you will visit many beautiful places. There is a map with a jungle background, I find it quite similar to the map in the legendary Contra game. Behind is a vast forest, your path is brown soil, covered with immense green grass. Or you will come to the ruins of ancient Egyptian civilization. The road is rocky, the scenery behind is buildings built of giant boulders. Or the map is a dungeon, with a rather gloomy and dark setting and colors. There is also terrain that passes through a fiery citadel, or places where there are waterfalls behind.
Enemies and traps along the way
Yes, this is an indispensable element in the game RUN SLASH RUN. You will be confronted with monsters, identified as green people with pointed ears. They wear armor and hold spiked clubs to attack you. Next are the witches, they have no legs and float in the air. Wearing a purple cloak that covers her face and makes her face invisible, only her eyes are exposed. Hand holding the dark staff, shooting round balls full of damage at you. There are also fire-breathing flying dragons, red birds, sharp-beaked crows, sharp-fanged wild boars, and mechanical spiders.
Those are mobile enemies, you also have to keep an eye out for motionless dangers waiting for you on the road. RUN SLASH RUN Mod has many traps to challenge you, to distract your attention. The spikes are covered with sharp nails, scattered somewhere on the road. If you step in, you will lose your life. Or sometimes a tornado passes by, it will sweep everything away. Participating in this adventure means you will have to brace yourself and fight. Concentrate highly and do not take your eyes off the phone screen. Because the demon herd is very large, there are also many thorns and traps. They are always waiting for you on the way, please pay attention.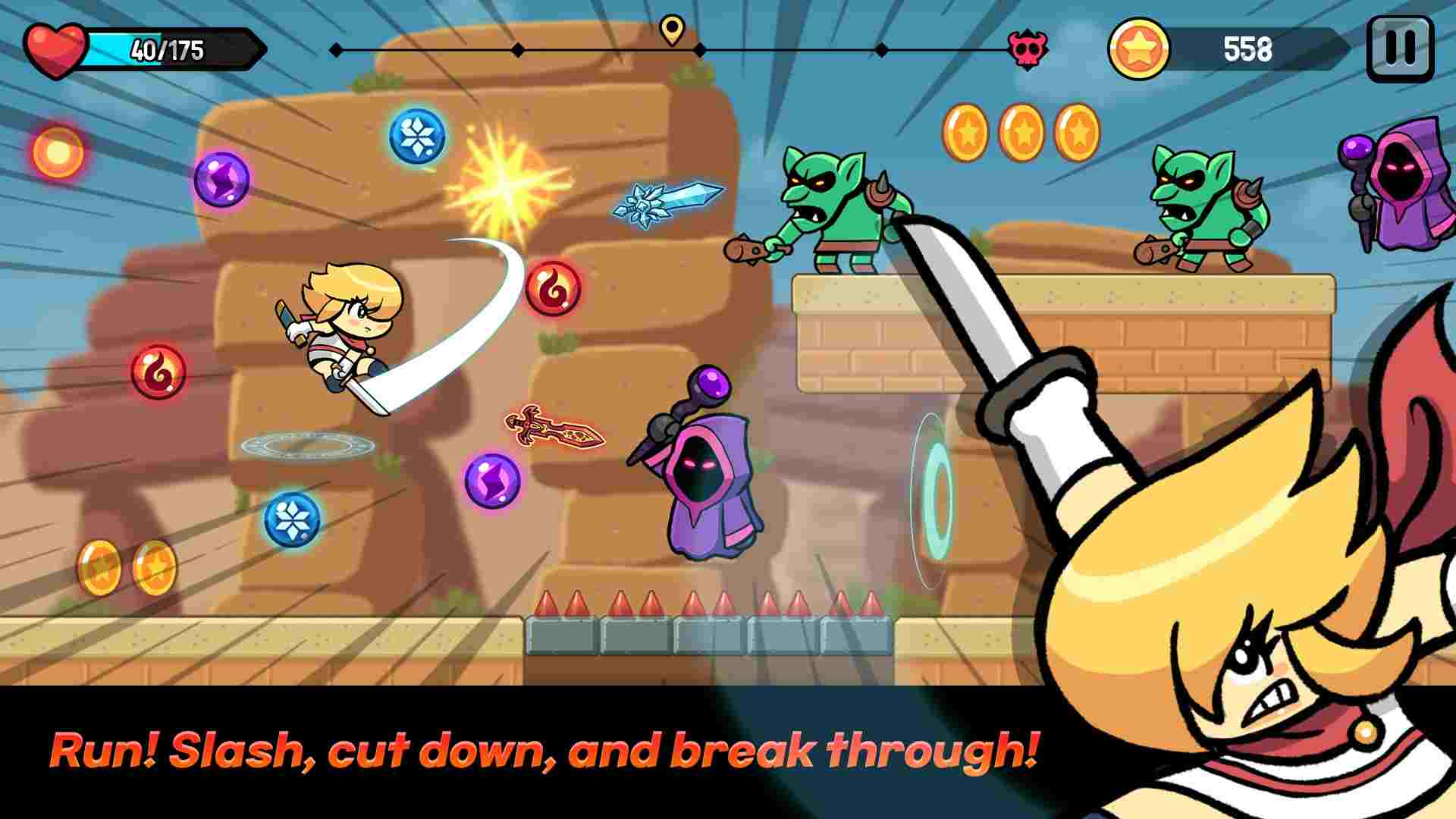 Combat weapons and equipment
To help you conquer all the challenges in this game. The game RUN SLASH RUN provides you with a quite diverse system of weapons and equipment. Examples of basic damage weapons are daggers, darts, Tachi swords, katana swords, Mithtiltane swords… Auxiliary equipment that you can equip such as armor, gloves, shoes, rings and necklaces . They help you increase your health and damage stats. These weapons and equipment are also divided into 4 different rarity levels. The highest level is the extremely valuable "Hero" status, the highest level is 40 with terrible stats.
Another factor that can also decide the fate of the match is the random skills that the system gives you. That's when you conquer a certain distance. The system will let you choose 1 of 3 new skills to help you attack enemies. These skills are very diverse, for example: shooting a magic sword with fire effects or ice effects. Fires a wave of energy that travels across the ground… Creates a sphere that orbits around you and deals damage to monsters. This ball can be fire, ice, or thunder. Or you can choose to reduce damage, increase health, dodge… Too interesting, isn't it?
MOD feature of RUN SLASH RUN
MOD Menu
Damage coefficient
Immortal
Unlimited money
Unlimited gems: diamonds, rubies
Those are some common MOD features, but you still need to read the "MOD INFORMATION" section to know exactly what MOD version that is. Now scroll down to the bottom of the page, find the Download button and download the game to your device. Equip yourself with the rarest and most powerful weapons and equipment. Start your journey to destroy monsters, or anything that stands in your way. Become a hero fighting for peace.
Download RUN SLASH RUN MOD APK (Menu, God Mode, Damage, Unlimited Money, Full Diamonds, Gems) 2023